by Kris Poland –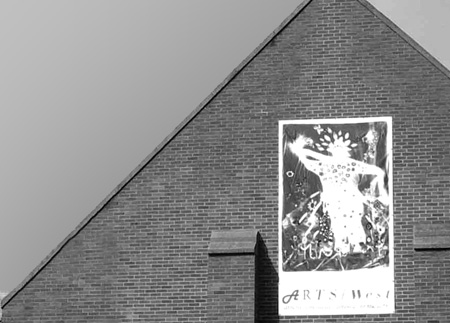 Go West, Young Bands
There is a place on West State Street where Athens music lovers can see some of the area's best musicians display their talents. It is a place where engaging local paintings and photographs adorn the walls and where community members meet to consolidate support for the arts. It is a place that has been an invaluable resource for area arts organizations and individual artists since its inception. But its staff is unlikely to serve you vegan burritos.
The place is ARTS/West, and Emily Prince hopes that it will increase its presence in the regional arts community for years to come. Prince is ARTS/West's program specialist and directs many of this venue's day-to-day activities. She describes her place of work as, "a venue and a little bit more." Indeed. The administrative and artistic support that ARTS/West provides to Athens' performing artists includes establishing press contacts and authoring press releases, organization of events, skilled instruction, technical equipment, as well as additional resources and services. A little bit more than a venue? Prince has a knack for understatement.
Housed in what used to be the Nazarene Church where West State Street and Miller Street converge, ARTS/West is a beautiful venue inside and out. Sunshine filters in through stained-glass windows to light up one of the largest stages in Athens. On this stage ARTS/West has presented numerous plays, diverse cultural presentations, poetry readings, dance recitals, and musical performances. The commitment of active Athens community members is a critical component of this venue's success so far. "People have great respect for the space," Prince says happily. "Everybody really chips in and treats the space as their own in a very positive way." With support from the City of Athens, The Athens Municipal Arts Commission, and The Ohio Arts Council, ARTS/West has the backing to remain a cornerstone in the local arts community.
It may be young, but ARTS/West is quickly becoming one of the preeminent venues in Athens. Participation increased by 21% to 21,000 people in 2007 (see sidebar), and Prince hopes to increase this figure by at least another 20% this year. Professional theater productions are launching world premieres of new plays only at ARTS/West, and the venue hopes to dramatically increase the number of musical performances it hosts in 2008. This is where the Legion comes in to play.
The Aquabear Legion has supported ARTS/West from the very beginning, and that support has recently evolved into a mutually beneficial partnership. Following in the footsteps of The Studio for Young Actors, the Ki-en Crew, and the Appalachian Progressive Education Center, the Legion is the fourth community arts organization to enroll in ARTS/West's incubation program. Incubation provides the Legion with office space, a temporary address, the use of technical equipment, and additional services. In return and in addition to other burgeoning programs, the Aquabear Legion has agreed to manage the venue's developing recording studio. This will allow all musicians who perform at ARTS/West access to high-fidelity live recordings of their sets. The hope is that recording times will also soon be available to musicians who want recordings without the pressure of having a live audience present. Prince says, "My experience with the Aquabear Legion has been extremely positive. Its members are very dedicated, and its mission of helping local and regional music acts fits with our mission."
Despite all that ARTS/West has going for it, the venue has yet to become a mainstay for gig-seeking local bands. Now that the Aquabear Legion is incubating there, the hope is that this unfortunate reality will soon change. The Second Annual Aquabear County Fair brought local and out-of-town bands in to the performance space and helped spread the word about the services ARTS/West can offer musicians.
One of the few musical regularities at ARTS/West is Athens' very own monthly Noise Show. The brainchild of uber-bassist Andrew Lampela, Noise Show brings together musicians off all types who want to forget about rules and structure and come together to create a beautiful racket. Members of Casual Future, Dinner of Swords, Goodbye Goats, Men of Gentle Birth, Wellbutrin Commission, Weedghost, and more have joined in the improvisational melee. Although attendance is rarely high at such gatherings, this event serves as an example of the sort of community-building ARTS/West can provide to the Athens music scene. Meeting for a potluck dinner and noise-making the last Sunday of every month at 6:00 PM, Noise Show shows no signs of slowing down after taking shape in November of 2005.
In a tip of the hat to her good friend Tim Peacock, Prince sums up her perspective of ARTS/West as a music venue. "Our primary goal is to support performing arts with a focus on theater," she claims, "because no one can top Stuart's Opera House." While Stuart's can boast about bringing legendary musical talent such as Ralph Stanley and Richie Havens to Southeast Ohio, it is an unlikely venue for most local bands. Athens bars and performance spaces like ARTS/West welcome local bands to invite their friends and put on a great show. However, only ARTS/West offers services far beyond a percentage of a cover charge. "Our focus is always on the community and local artists," says Prince. Local musicians would do well to remember that they are, without a doubt, local artists as well.