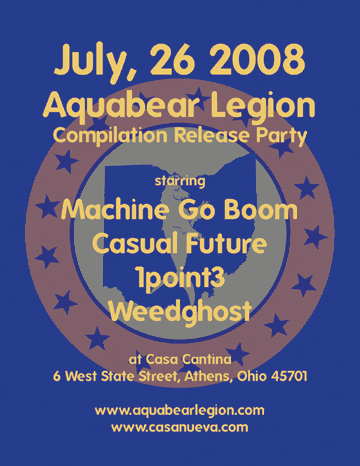 The Aquabear Legion is celebrating the release of yet another compilation (Volume 3!, our 5th overall..) on Saturday, July 26th at Casa Cantina here in Athens. The compilation features music from: We March, Southeast Engine, Machine Go Boom, Casual Future, Silo Circuit, Russenorsk, The Makebelieves, The Hiders, Woody Pines and The Lonesome Two, The X Bolex, 1point3, Kaslo, Mike Elliott, Spooktober, Men of Gentle Birth, Sun God, (the) Giants of Gender, and maybe even a few more.
Machine Go Boom (Cleveland)
Casual Future (Athens), 1point3 (Columbus)
Weedghost (Athens)
will be featured at the party on Saturday, July 26th at Casa. 10pm.
The compilation will be available and there will be some other new Legion merchandise as well including buttons, stickers, and more. Come on out and help us celebrate and here some really great music.