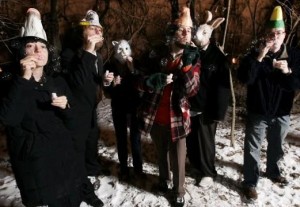 The 5th annual Aquabear County Fair is coming up this weekend (March 3-6) and we think this year just might be the best yet. The Aquabear is serving up four days of Ohio music with 16 bands.
We finish the 5th annual Aquabear County Fair off with a FREE afternoon potluck at the always awesome ARTS/West (132 W. State Street in Athens) on SUNDAY, MARCH 6 at 2:00pm. Its a great lineup too featuring Super Desserts (columbus), Brian Harnetty (columbus), and Athens' own Adam Remnant. Plus it's free (though donations help pay for bands, space, and sound) and it's a potluck so bring some food to share and enjoy some amazing music. Trust us, you will have a great time. We're bringing kelbasa and bread from Crumbs and a giant chocolate bunny.
Super Desserts are a fantastic band from Columbus, Ohio. Come see them this afternoon and you will love them as much as we do. 
Brian Harnetty is a musician and artist from ohio, and his work involves overlooked elements of sound. many of his pieces transform found material––including field recordings, transcriptions, and historic recordings––into personal sound worlds. He's recorded and worked with Will Oldham, and graced stages from Europe to the Southern Theater.
Adam Remnant has been one of Athens' most respected songwriters for a decade and appears at ARTS/West for a special solo show. Adam's band Southeast Engine is releasing its new album Canary on MISRA Records in a few weeks and embarking on another tour.