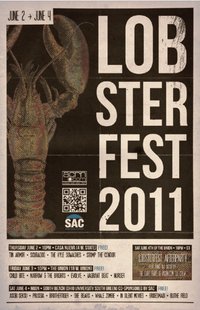 This weekend, June 2nd through 4th, the All Campus Radio Network (ACRN) presents its annual Lobsterfest. This year's fest features many local and regional bands to create a full and diverse lineup. This event is sponsored by ACRN and in part by the Student Activities Commission and local businesses.
Lobsterfest kicks off Thursday at 10 p.m. at Casa Cantina. Headliners include Columbus band Tin Armor and Athens act Scubadog, while The Kyle Sowashes and Stomp the Condor, both of Columbus, are opening.
Lobsterfest continues Friday at 10 p.m. at The Union. Headliners include Detroit art rockers Child Bite and Columbus post-punk band Narrow and the Brights. The night will begin with Cincinnati act Evolve, and Athens band Nurser.
Finally, on Saturday at noon, Lobsterfest takes over South Green's lawn for an all-day extravaganza. New York City dream pop band Asobi Seksu and Detroit indie-rockers Prussia will be headlining. Athens favorites Brothertiger and She Bears will also be playing on Saturday. Expect to see many other acts from Athens and Columbus for a full line up check out the Lobsterfest Facebook event or ACRN.com.
To finish the evening on Saturday, Dave Rave, Busted BASS and the ACRN.com DJ Crew will be presenting a Lobsterfest themed Dave Rave at 10 p.m. at The Union.
FULL LINEUP + SCHEDULE AFTER THE BREAK
LOBSTERFEST DAY 1
THURSDAY, JUNE 2RD – 10 PM – CASA CANTINA – FREE
Tin Armor (Columbus)
Scubadog (Athens)
The Kyle Sowashes (Columbus)
Stomp The Condor (Athens)
LOBSTERFEST DAY 2
FRIDAY, JUNE 3RD – 10 PM – THE UNION – FREE
Child Bite (Detroit)
Narrow & The Brights (Columbus)
Evolve (Cincinnati)
Nurser (Athens)
LOBSTERFEST DAY 3 (co-sponsored by SAC)
SATURDAY, JUNE 4TH – 12 PM TO 10 PM – SOUTH GREEN LAWN – FREE
Asobi Seksu (NYC)
Prussia (Detroit)
Brothertiger (Athens)
She Bears (Columbus)
Whale Zombie (Athens)
In Silent Movies (Columbus)
Bridesmaid (Columbus)
Blithe Field (Athens)
FINALLY: LOBSTERFEST 2011 DAVE RAVE AFTERPARTY
SATURDAY, JUNE 5TH – 10 PM – 2 AM – THE UNION – $3
Come help us celebrate the closing of the festival with a Lobsterfest themed Dave Rave featuring Dave Rave, our mobile director bustedBASS and the rest of the ACRN.com mobile DJ crew.