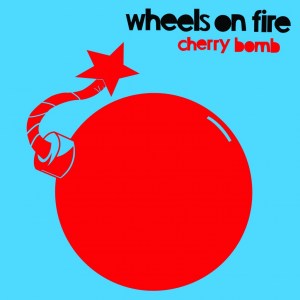 This album seems like a demonstration of how deeply Wheels On Fire can worm four
songs of their greaser surf-rock into your skull. It's a cleaner break from the straighter
rock sound of Get Famous!, and more in line with beach riffs of Liar Liar. (So much so
that there's a different version of a song off Liar Liar.) Cherry Bomb's lead off, "Black
Wave," starts the dig in your head with a dark beach-party sound, its catchiness only
covered up by the second track ("Broken Up") and its insistence on including a kind
of 'keyboard cat' riff. The title track demonstrates Wheels on Fire's experimentation with doo-wop harmonies, and the final song of the set is a stripped-down revision of Liar Liar's "Go Give Your Love Away". These are all good songs, and the descriptions, admittedly, are simple bastardizations of how you'll experience them, or what they actually are.