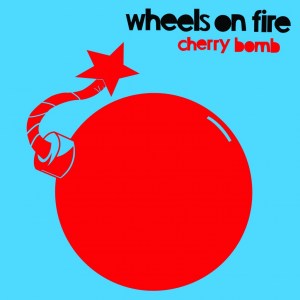 This album seems like a demonstration of how deeply Wheels On Fire can worm four
songs of their greaser surf-rock into your skull. It's a cleaner break from the straighter
rock sound of Get Famous!, and more in line with beach riffs of Liar Liar. (So much so
that there's a different version of a song off Liar Liar.) Cherry Bomb's lead off, "Black
Wave," starts the dig in your head with a dark beach-party sound, its catchiness only
covered up by the second track ("Broken Up") and its insistence on including a kind
of 'keyboard cat' riff. The title track demonstrates Wheels on Fire's experimentation with doo-wop harmonies, and the final song of the set is a stripped-down revision of Liar Liar's "Go Give Your Love Away". These are all good songs, and the descriptions, admittedly, are simple bastardizations of how you'll experience them, or what they actually are.

But here's something we could all learn from:
The entire day after hearing this album it wouldn't leave my head. It went on full-
force one day when I headed off on a long walk to a public library's reading room, and
did not leave until the sound of a man skulking through the library stacks and making
aggressive humping noises quieted the entire room. Everybody, all six people at the same
wall of desks and chairs, froze and stared dead out the window in front of them. The man
suddenly appeared behind us in a camouflage fleece jacket, continuing his grunts, letting
us see in the window's reflection the faces he made during his quick animal spasms and
his swollen pornographic yowls. He then yelled out, "You don't think I know, son?" and
punctuated the question with a phantom spit at his side. I sat on the ground, my head
level with his waist a few yards away, and expected him to bring my head in for a quick
thrust to the neck. Instead I got the familiar: an accusation of not knowing and a phantom
spit. He moved down the line of desks—six people!—and everybody reacted in the same
baffled, frozen way. After the last person, he went to a wall and rolled his head from one
ear to the other, humped something imaginary for a moment, and then sped off down an
emergency exit, leaving us in an ominous silence. But then everybody collectively
repressed it: Fingers typed casually again. Papers shuffled around. Drinks sipped. And
Cherry Bomb came back on in my head, as cheery and catchy as it ever was.
God knows there could be no greater test for the strength of a 12-minute EP.
Buy: Cherry Bomb EP