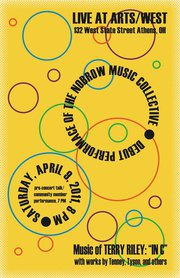 Athens brand spanking new Nobrow Music Collective will make their debut tonight (Saturday, April 9) at ARTS/West with a FREE performance of Terry Riley's masterpiece IN C.
For this performance the NMC will be made up of musicians from various OU ensembles (Symphony Orchestra, Wind Ensemble, New Music Ensemble, Percussion Ensemble) as well as musicians from local bands Splank!, The Alley Cats, Scubdaog and Weedghost!
The Nobrow Music Collective is a rotating cast of musicians dedicated to the performance of exciting music (be it old, new, highbrow or low). They are directed by Scubadog drummer Aaron Butler, who besides playing awesome percussion and putting together a sweet group has a very impressive beard.
There will be a pre-concert talk at 7:00 followed by an open performance of IN C. So bring any acoustic instrument that you want and participate in the experience yourself!
Program also includes:
James Tenney – Having Never Written a Note for Percussion
Tristan Perich – Momentary Expanse
**This performance is presented free as a part of Arts/West's Presents Series.**