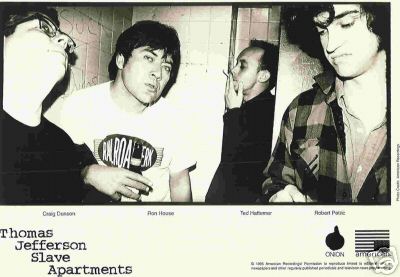 From Donewaiting:
Columbus' own donewaiting.com has been around for almost a decade, and that's reason to celebrate. They are doing that by bringing three amazing bands, an emcee and a deejay to Ace of Cups on Feb. 3. Needless to say, you should go celebrate with them. Thomas Jefferson Slave Apartments (whoa), Zero Star, Bill Fox, Sundown, and DJ Detox will all be there, sounds like an awesome lineup.
Thomas Jefferson Slave Apartments are not just reuniting for this show. Ron House, Bob Petric and crew are playing their seminal 1995 Onion/American record Bait & Switch front to back. Rick Rubin would be proud. Wes Flexner also informed me that TJSA was once featured in Egotrip magazine, one of the greatest hip hop magazines of all time, which is fitting, considering our next artist…
Zero Star, via Wes – "Zero Star has proven to be one of the coldest rappers in Columbus by making classics with the late DJ Przm, the venerable Blueprint and upstarts like J. Maggz and Chozin, as well as dolo appearances on Grindtime and 107.5′s 'In The Booth.'"
Bill Fox: We talk about Bill Fox almost as much as the Black Keys on this blog. The Cleveland troubadour who used to helm The Mice has become one of my favorite songwriters of all time, and by the time Feb. 3 rolls around, he'll have a new album to play behind. But really, even without a new album, any Bill Fox show is a big deal and rare treat.
Sundown: It was probably only a matter of time before TK Webb put together a band here in Columbus after moving from Brooklyn (Kansas City before that). He chose the right partners: Dustin White (Moons), Blake Pfister (Moon High) and Grant Driskell (TV Eye). Don't sleep on the band's debut cassette EP, Mansion Burning, and keep your ear out for more stuff the band is currently recording.
DJ Detox: If you've been coming to this site for any period of time, or you even occasionally attend shows, you know Detox. He's one of the most in-demand deejays in the city. He'll spin tunes between sets.