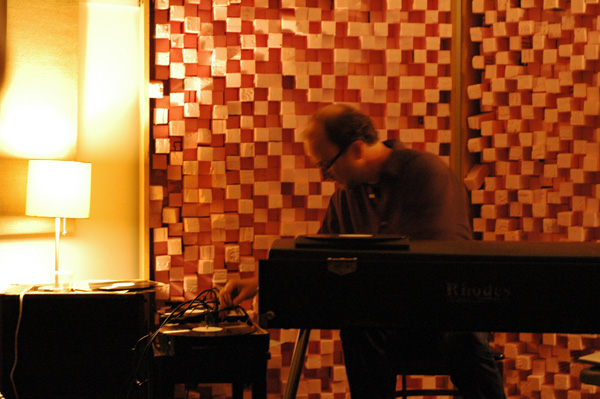 Ohio musician and friend of Aquabear Legion Brian Harnetty has been keeping himself pretty busy as of late. This past Friday, he opened a sound installation entitled The Star-Faced One in the Audible Gallery at the Experimental Sound Studio in Chicago. The 60-minute piece features material from the Sun Ra/El Saturn Collection as well as contributions from Fred Lonberg-Holm, Jeff Kimmel, Aaron Butler and Jeremy Woodruff. The installation runs every weekend and by appointment during the week through December 19. We recently sat down with Brian for a few words about his current work and future plans.
Aquabear: In the past you've worked with archival recordings from the Berea Appalachian Sound Archives, how did working with the Sun Ra/El Saturn Collection come about?
Brian Harnetty: Experimental Sound Studio (ESS), which houses the collection (and several others) is a great non-profit in Chicago that does a lot with sound art, experimental music, etc. They have a gallery and recording studio, too, and run a year-long series of events called "Outer Ear". I first met Lou Mallozzi (who runs ESS) through my record label, Atavistic. ESS also did the mastering of my last two albums. ESS is just finishing up the process of digitizing the Sun Ra collection, and to help promote it, they have asked visual artists, writers, musicians and myself to create new works that creatively reinterpret the recordings.
AB: Tell us a little bit about the piece you've constructed for this installation—how did you approach working with this material?
BH: Most of the work for this piece was simply listening. It is a huge, rambling collection of recordings that are only loosely held together by the presence of Sun Ra. There are rehearsals, live shows, lectures, answering machine tapes, self-help tapes, recordings off of the TV, etc. I spent a lot of time listening and narrowing down the selections that I thought might be appropriate. I then asked several musicians to play along with the recordings, which I then crafted into the individual parts of the piece. It is a 6-channel installation, so it is easy to be immersed in the sounds and layers when listening to it in the gallery.
AB: You're obviously no stranger to collaboration—having worked with Bonnie 'Prince' Billy on your last record—and this project is no different. You've got contributions from Chicago stalwarts like Fred Lonberg-Holm and Jeff Kimmel. How did an Ohio-based musician such as yourself come to work with these artists?
BH: Because the archives are housed in Chicago and are mostly recordings from there, I thought it would be great to have at least some of the performers on the piece be from there as well. Fred has done several albums on Atavistic, and generously agreed to perform; Jeff was recommended to me by Fred, and I was inspired by his playing on the Bass Clarinet.
AB: What comes next? Your last two records Silent City and American Winter were very well received both regionally and internationally. Do you have plans to release another record through Atavistic?
BH: Yes. I hope to have The Star-Faced One released on Atavistic next year some time. Atavistic has an ongoing relationship with John Corbett, who was responsible for rescuing and preserving the Sun Ra collection, and together they have released several Sun Ra reissues. Also, another CD/album will be released in early 2011, called Rawhead & Bloodybones, which continues my work with the Appalachian field recordings at Berea College in Kentucky. This album is a series of folk tales from the 1940s as told by children. The combination of their innocence and the often gruesome stories is a great contrast, and I've added several instrumental parts to accompany the stories.