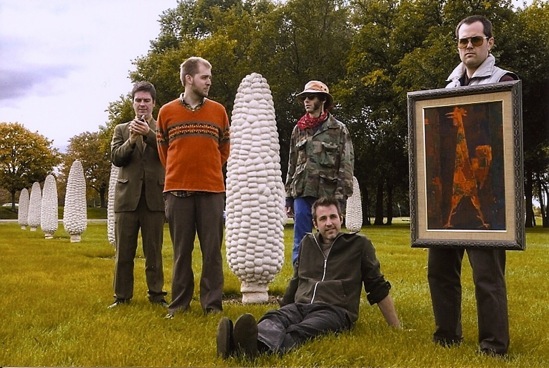 Columbus folk-rockers the Black Swans recently put the finishing touches on their long-gestating record Don't Blame the Stars, which will be released on CD in late April by Misra Records. The album is tribute of sorts to the band's late violinist Noel Sayre, whose final recordings are housed on the release. The band describes the record as "a batch of songs about placing faith in friendships, music, and yourself."
In an effort to have the album released on vinyl, the group has turned to the increasingly popular funding platform Kickstarter to raise the funds needed for vinyl mastering and manufacturing. Any pledge of $20 or more garners the contributor a copy of the record on their format of choice, while higher pledge levels offer up perks such as limited edition 45's, private house shows or the band writing and recording a song about a topic of your choosing. The group is looking to reach their $3,000 goal by March 21.
In the meantime, the Black Swans are on tour on the West Coast before making their way back East in February. A full list of tour dates is included after the break.
Jan. 11- Albuequerque, NM- Low Spirits
Jan. 12- Phoneix, AZ – Trunk Space
Jan. 13- San Diego, CA- Soda Bar
Jan. 14- L.A., CA – Museum of Public Fiction
Jan. 15- Santa Cruz, Ca- Crepe Place
Jan. 19- Merced, CA- Partisan
Jan. 20- Oakland, CA- Stork Club
Jan. 21- San Francisco, CA- Red Devil Lounge,
Jan. 22- San Francisco, CA- Rite Spot (early show 5pm-7pm)
Jan. 23- San Francisco, CA- Knockout
Jan. 26- Sacramento, CA- Luigi's Fun Garden
Jan. 27- Chico, CA- Town Lounge
Jan. 29- Eugene, OR- Sam Bonds
Feb. 1- Portland, OR- The Woods
Feb. 3- Bellingham, WA- Acoustic Tavern
Feb. 4- Seattle, WA- Josephine
Feb. 5- Olympia, WA- house show
Feb. 7- Missoula, MT- Bandlander
Feb. 8- Bozeman, MT- Fuel Station
Feb. 11- Madison, WI- house show
Feb. 12- Champaign, IL- Canopy Club
Feb. 16-Brooklyn, NY- Zebulon
Feb.  17- Brooklyn, NY- Union Hall