Aquabear Legion and Stuart's Opera House are teaming up for another Music Swap Meet this Saturday, October 10th in the Stuart's lobby (52 Public Square in Nelsonville) from 10am-5pm! Lots of great LP's, CD's, Gear, and a whole lot more all for sale, and FREE ADMISSION!
If you are interested in reserving a table please e-mail brian@stuartsoperahouse.org for details or call the Stuart's office at (740) 753-1924.
It's always a good time, hope to see you all out!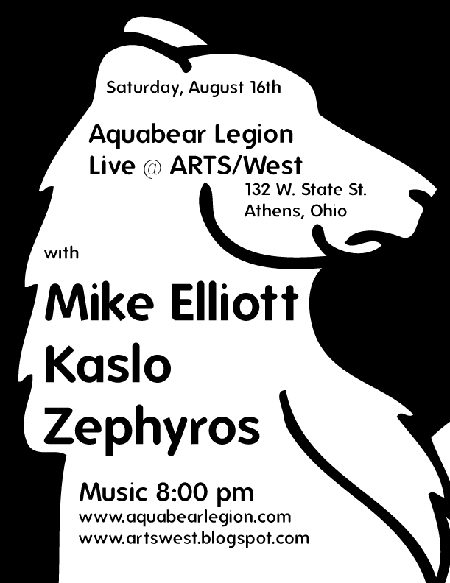 Aquabear Legion continues our monthly showcase at ARTS/West on Saturday, August 16th… featuring a wonderful lineup of Athens music from:
Mike Elliott
Kaslo
Zephuros
Starts at 8pm sharp and it's only 3 bucks! This will be one of the last shows in this area from our good friend Zephuros, so come out!

Aquabear Record Swap on Sunday, August 24th! 1pm-6pm at ARTS/West, FREE ADMISSION! Come on out for our first ever Record Swap and find LP's, CD's, 7″, 45's, Cassettes, Gear, and most importantly local music from local bands. Tables can be purchased for only $10! Send us an e-mail if you are interested. 6 vendors already! We'll be playing records all afternoon as well. Donations will be encouraged at the door.