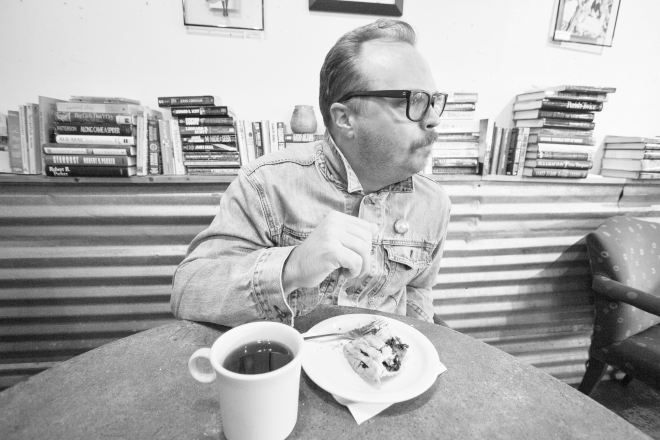 Aquabear is putting on a great show this Friday, April 17th at Donkey Coffee at 17 W. Washington St. in Athens, Ohio! Oxford, Mississippi's Andrew Bryant (of the amazing Water Liars) comes to town to play songs from his brand new album This is the Life and is joined by Chicago's The Gunshy and Athens, Ohio's own Mike Elliott. Show starts at 8:00pm and tickets are $5 in advance at Haffa's Records in Uptown Athens or $6 at the door.
Bryant describes his own background this way, "I was born 34 years ago in Oxford, Mississippi, to a sawmill father and a church piano playing mother. One taught me how to work and the other how to sing, and I try to do both as much as possible. Maybe the work isn't as backbreaking as it was for me when I was younger and maybe the songs have changed, but I learned a lot in those day about what it takes to keep going, to not give up. I learned how to sing when my soul was down. Now I find that I just can't quit." He has been making music his whole life but has released 6 solo albums (including this year's beautiful record This is the Life which you can buy right here) and made a few more with his band Water Liars.
Whether alone or with a piecemeal band, Matt Arbogast has spent a good part of the last ten years on the road. His most recent effort Silent Songs is largely a reflection of his decision a few years ago to take a break from touring and, ultimately, to return. Silent Songs is The Gunshy's first full-length record since 2007's There's No Love In This War. That record, based on letters Arbogast's grandfather wrote to his grandmother during World War II, earned attention from quite a few folks. From Magnet and The Onion to a 45 minute interview on NPR's The Story, the album was well received and seemed to stick with its listeners. Enough so that NPR did a follow up interview with Arbogast the following Memorial Day. Arbogast and company have shared stages with Elliott Smith, Andrew WK, Mountain Goats, Magnolia Electric Co., William Elliott Whitmore, Deer Tick, Lucero, Murder By Death, Langhorne Slim, Frank Turner, and many others.
Mike Elliott is one of Brian's favorite songwriters in the world and a longtime supporter and lifetime Aquabear Legion member. Mike hails from Athens and plays out and puts out records with his band Supernobody that join an extensive catalog of solo albums. If you haven't seen Mike play, you should. And if you have, then I hope to see you there anyway.