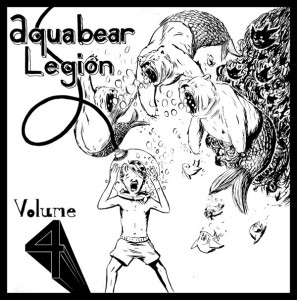 As many of you may have heard, Aquabear Legion is getting ready to release our eighth compilation, Aquabear Legion Volume 4 later this Spring and to help pay for it we started a Kickstarter project. Well, we have been blown away by the support we have received! In 25 days we have raised 124% of our original $750 goal, receiving a total of $945 from 34 awesome backers. You can click on the link above or over to the right on our sidebar.
Even though we have reached our goal, we can keep going over! The more we raise: the more comps that we can make, the nicer stuff we can use, and most importantly the more compilations we can send out to media, radio stations, and of course the bands.
The compilation features over 30 bands from around Ohio and we are producing and distributing the whole thing on our own, even screenprinting it ourselves. Help Aquabear fund this amazing project, and get some cool stuff in return! Any donation helps… and please spread the word to your friends and family too.