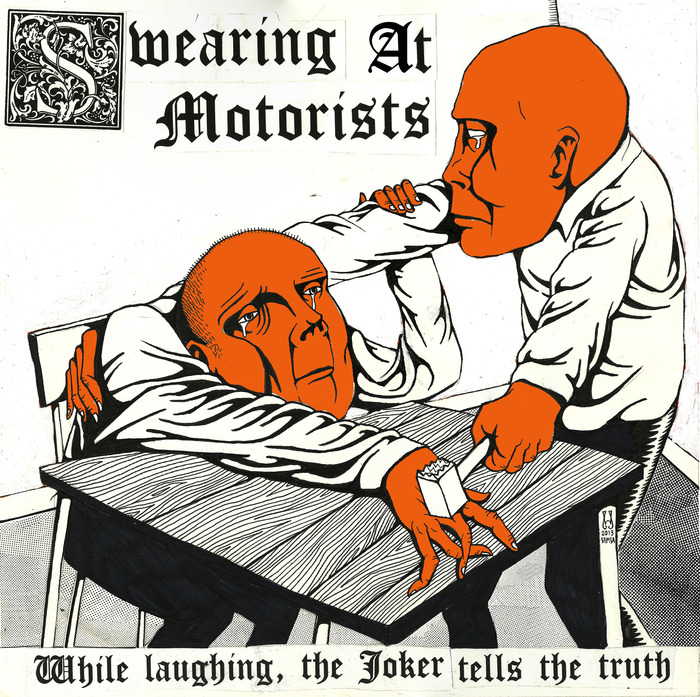 Swearing at Motorists is some of the finest rock and roll to come out of The Buckeye State. It is the project of Dave Doughman, and they have a brand new album called While Laughing, The Joker Tells The Truth ready to come out this March and they need your support to make it happen. Donate to the Kickstarter here and have the chance to support good people and music and win some cool stuff too including the record, a phone call from Dave, and even a badass Football-inspired SaM scarf. Aquabear caught up with Dave to discuss the album, Germany, Ohio rock and roll, and being a parent and trying to record music. Here's a video for "Wasting Your Time".
Tell me about the new record?
While Laughing, The Joker Tells The Truth is the first new full length album since Last Night Becomes This Morning in 2006.
What the gap between releases?
In 2007 my son was born and I decided that for me personally, it was better to change my focus from full time musician, to full time father, until he was old enough to understand my need to leave home for weeks on end to tour. He just started 1st grade, so it felt like the time was right to resume my music career…
What was the process for making this album?
Unlike previous albums, this time around i didn't have the luxury of time and solitude. Songs were written and demos recorded while my son was asleep or at his mothers, at one time I joked about calling the album "Don't Wake The Baby". It was much more difficult, because I would have to turn my back on the muse at a moment's notice, just because i was "in the zone" didn't excuse me from my duties as a father. Also, IÂ actually didn't feel like being creative very often for a few years, as raising a child is an overwhelming and rewarding experience.
Why did you decide on Kickstarter as a platform? Why crowd sourcing?
I love Secretly Canadian, the label that has been releasing my records since 2000. We did 4 albums, 2 eps, and a singles compilation together, and i consider the owners as dear friends. But now that my son is my 1st priority, i need to record and tour around my family schedule, and not that of a label's promotional cycle. Kickstarter seemed the logical solution. if a percentage of the folks who bought our previous albums are willing to pre-order this one, with special rewards as incentives, then i can release the album myself, and tour when it doesn't interfere too much with my family life. I was fortunate enough that everyone involved in the making of the album agreed to let me pay them after the album was released. So the album is 100% finished, it only needs to manufactured. The Kickstarter goal of $15,000 will cover all the money i owe for recording studios, engineers, artwork, and to manufacture the first pressing of vinyl and cds.
What took you to Germany?
Swearing At Motorists have always been appreciated a bit more in Europe, so moving here made sense. I am able to play more shows without having to actually tour. I do quite a lot of weekend and one off shows. airfare and train tickets are fairly inexpensive, making it possible to just fly to London, or take a train to Utrecht for one night and actually make a profit.
You are a proud Ohioan, what are some of your favorite Ohio bands past and present?
Brainiac, Guided By Voices, and Breeders are the reason i moved back to Ohio in '94 after living in California for several years. I wanted to live in Dayton, because it was a town that nurtured creativity. Currently i am digging the Motel Beds (band member Darryl Robbins made the video for our new song, Wasting Your Time), Oh Condor, and the Smug Brothers (former Swearing At Motorists drummer Don Thrasher's new band)
What's the plan for the next few months? Album? Tour? Coming to the states?
If the Kickstarter is successful , we will be self-releasing the new album in March. and regardless of the outcome of that campaign, we have a 2 week tour here in Europe January 31 to February 15 and will be flying to the US in March for a quick tour to SXSW and back. the Ohio shows will be March 7 at the Tree Bar in Columbus and March 8 at Rockstar Pro Wrestling Arena in Dayton.
CLICK HERE TO SUPPORT THE NEW SWEARING AT MOTORISTS ALBUM!
Swearing At Motorists – Wasting Your Time from Swearing At Motorists on Vimeo.