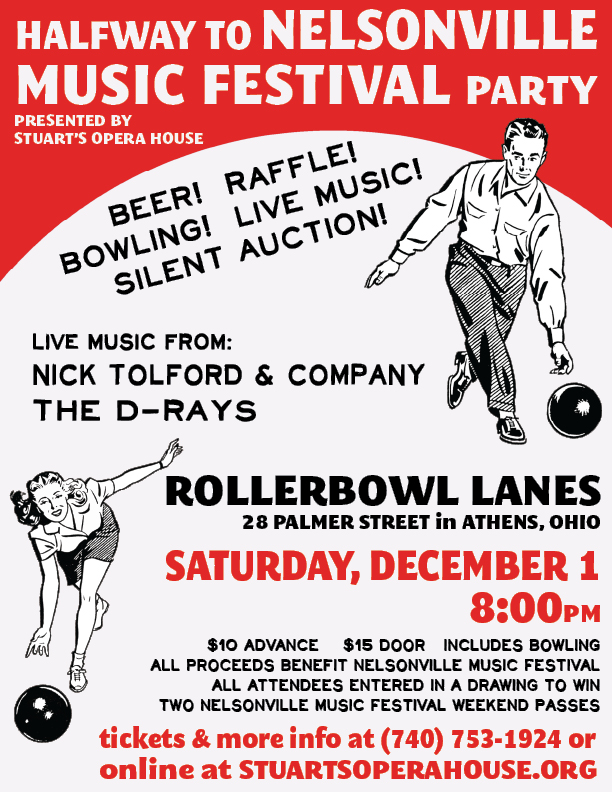 I am biased when it comes to the Nelsonville Music Festival and Stuart's Opera House because I work there. But nevertheless, the Nelsonville Music Festival has grown to be one of the finest festivals around over the years and has been a big supporter of Ohio music. The have hosted everyone from Flaming Lips, Willie Nelson, and Guided By Voices to a huge list of Ohio bands from Wheels On Fire to Weedghost. Now in its 9th year, the 2013 Nelsonville Music Festival will take place May 30-June 2, 2013 and will no doubt be another amazing weekend of music. It's almost halfway to this year's fest, so Stuart's is throwing a big party at Athens' own Rollerbowl Lanes (28 Palmer Street) to celebrate on Saturday, December 1st!
The party will feature live music from Nick Tolford & Company (Columbus) and The D-Rays (Athens) and more along with beer, bowling (2 games are included with admission), a silent auction featuring lots of sweet stuff, and even some lineup announcements for next year's Nelsonville Music Festival. Proceeds from the show and silent auction will put right back into the festival to continue making it awesome. Tickets are only $10 in advance or $15 at the door and you can get them online right here.
And if you are feeling like halfway is still to far… go take a listen to the Sometimes the Bear Eats You coverage from the 2012 Nelsonville Music Festival.