Showing up for something like Bacon Fest completely sober (hungover) may not have been my best idea, especially when it means abandoning my cool-kid time-code and showing up to the Union at the crack of 10pm. But after a few hours of bacon, boobies and bands, I found myself with whiskey in hand, appreciating the spectacle.
The bacon.
The night started with a contest for the best bacon-inspired food, which became more of a sexed-out, greasy pep rally for all things pig. Boxcar Burlesque's Dolly Derringer hosted the festivities, dread-locked, long-lashed and oozing with the kind of sexiness usually reserved for female drummers, bartenders and tattoo artists. Her judges—a  mohawk, an ironic mullet and a fake pig nose—braved through dozens of bacon dishes submitted by audience members. There was bacon-stuffed, deep-fried deviled eggs, bacon meatloaf, bacon jam, bacon doughnuts, bacon ice cream, bacon pie, bacon cake, bacon baklava, bacon toffee and more. The judges picked their favorites, and the winners received adorable, homemade pig trophies. I appreciate a good theme, but this part of the night just dragged, probably because it can't be all that easy to rehearse and time an unprecedented bacon extravaganza. Or maybe I should have been drunk.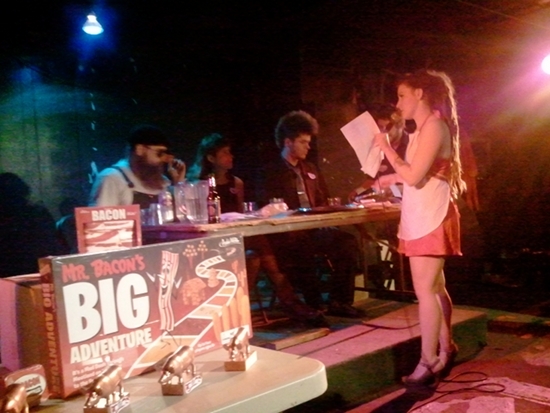 The boobies.
While the judges deliberated, we got a bacon-themed peep show. I was most excited about the burlesque part of the night, and while I was disappointed that only two girls performed, those two dances were pretty rad. Arizona Fury came off as kind of young, cute and not, you know, burlesque-y when the audience met her earlier in the night. But if I was a weaker person and sometimes quoted Brittney Spears lyrics, I would write that Arizona then proved to be, "not that innocent!"  She performed this steamy shadow dance that made even a medium-straight person like myself calculate every curve of her little body, mouth open and wildly impressed. Her entire routine was from behind a curtain with a light silhouetting her beautiful form as she bounced along with bacon props. Next came Dolly in a tiny bacon dress, wiggling raw meat and rubbing against an enormous cardboard frying pan. OK, the routine typed out doesn't seem all that sexy, but it totally worked, and she ended the performance by twirling homemade bacon pastie-tassels at the crowd. (Yeah, re-read that: bacon pastie-tassels.) This was my first burlesque experience, and it seemed like there was something joyous and almost religious about it. Boobs! Audience love! Body love! Bacon! Beer! Dolly's boobs and the energy at the Union convinced me to stop being hungover.
The bands.
I cannot think of much better music to be paired with a short glass of whiskey. Hex Net sounded dirrrrty, with a sexiness as palpable as the proceeding act, but very different. If burlesque was the red lacy underwear, then this band was the secret tattoo underneath. We're talking about bar bathroom hookups, Animal Planet sex and slow-motion footage of the John Benders of the world getting their way. Each member of Hex Net matched the raw, cold energy of their play list with an almost complete indifference to the audience. Their mouths somehow laid level and linear, with their eyes somewhere else, like we were in a fight and I had no idea why. This "must-act-pissed" act worked for Hex Net, and I didn't even realize its effect until singer and guitarist, Seth Riddlebarger, said, "Thank you" to us, and I totally melted. I wanted to scream to him how he was so welcome and how I appreciated the neck scarf, but instead waited patiently for the next band, Chickenpussy. Like Hex Net, Chickenpussy followed the same philosophy of playing hard and growling through songs. The most fun part of their set, and maybe of the entire night, was when they played a gritty version of "Blue Suede Shoes" to celebrate Elvis' birthday. If the King had been a 76-year-old birthday boy and spent the last few years as an Athens townie, I think he would have rocked this exact version. People moshed to the song, but also swing danced, and that's something I've never seen at the Union.
I left the Union pretty convinced that Bacon Fest had been worth the $15 or $20 I put into it via the cover, drinks and tips. The bacon, well, happened. The girls danced. And what better way to end a night at the Union than with a few fun, crusty bands? I hope the Boxcar ladies can host Bacon Fest next year, and I'll just plan to show up later and drunker.
*Photos care of an extremely lovely stranger named David Burke, who came to the rescue after an unexpected camera battery death. Many thanks from the author and Aquabear Legion!